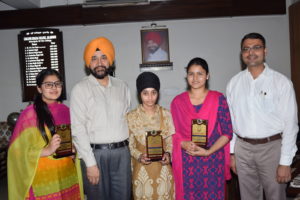 Ritika Rani of Lyallpur Khalsa College Jalandhar has bagged 5th position in the University exams of B.Sc. (Biotechnology)-Ist semester by getting 377 marks out of 520,
 Sukhpreet kaur bagged 6
th
position by getting 376 marks whereas Simran Kaur of the same class secured 7th position by getting 373 marks. This information was given in a press release by the Principal of the College Dr. Gurpinder Singh Samra. The President of the College Governing Council Sardarni Balbir Kaur congratulated the students and wished them success in life. Dr. Arun Dev Sharma HOD Biotech, was also present on this occasion.