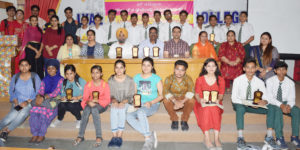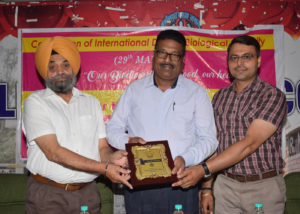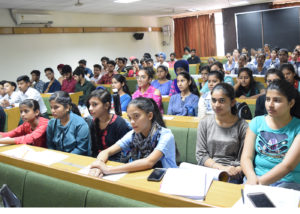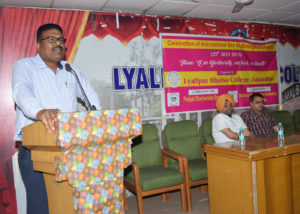 One day's International Biodiversity day' was celebrated on the theme – "Our Biodiversity, our Food, our Health" by PG Department of Biotechnology at Lyallpur Khalsa College, Jalandhar, in which more than 70 students participated from different schools (LKC Collegiate, DSSD, Doaba Khalsa Model, Ramjas College DU). Honourable Principal  Dr. Gurpinder Singh Samra, congratulated the department for organizing such awareness programs and motivated students to get indulged in Eco-friendly activities to save the mother Earth. The day began with warm welcoming words and an introduction to Biodiversity by Dr. Inderjeet Kaur. Dr. Naveen Gupta, Associate Professor, Department of Microbiology, PU, Chandigarh, was the main orator for this Program and was duly honoured by Dr. Arun Dev Sharma (Coordinator cum HOD, Biotechnology Department) by Dr. Manohar Singh( Dean, Administration  ), by presenting Trophy as token of respect. Speaking on the occasion, Dr. Arun Dev Sharma, introduced students about the need of Biodiversity conservation and a very unique instrument i.e. Foldscope. He addressed the students about the need of getting up from the materialistic world & to save our one home, earth & our mother nature.  He described about the use of foldscope in visualising microorganisms, plant tissues (that are part of Biodiversity) by citing examples of his own research work. He encouraged everyone to make use of this foldscope as it is much cheap in cost & affordable to everyone. Dr. Naveen Gupta presented a paper on the Topic "Beautiful and Powerful World of Biodiversity" (A treasure we must take care of).
               He described biodiversity, its different types, Global processes by citing real life examples. He said carbon cycle, Nutrient Cycle, etc. are maintained by Biological Diversity. He made his talk much interesting by playing videos, for a better understanding. He said his aim is to sensitize the students about our environment, so that they could preserve resources, replenish more, grow plants, etc. He discussed various threats to our Biodiversity. He concluded his talk by interacting with students & wishing them Good Luck to make an effort for preserving biodiversity students voluntarily participated in various events like paper reading contest, preprepared poster & model presentation & essay writing contest. A workshop on use of Foldcope was presented by Miss Priya Nischal (Research Fellow). She described the way of using foldcope vey nicely to students.
            The valedictory function was carried out in the presence of all the dignitaries where the students were given certificates and trophies for their participation. As a gesture of motivation, Dr. Naveen Gupta sponsored cash prize on the behalf of Association of Microbiologist of India, being its secretary. The spirit of participation was highly appreciated & acknowledged by the dignitaries. The function was a complete success with the presence of Prof. Gobind Ram, Dr. Inderjeet Kaur, Prof. Vijayeta, Prof. Shubhneet, Prof. Navjot, Project Fellow Dr. Richa & Research fellow Priya.