NCC
N.C.C. AIR WING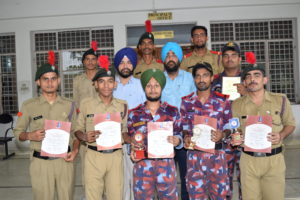 NCC activity is a second line of defence which lays special emphasis on overall development of personality. NCC training inculcates amongst cadets the spirit ofnational building. They have imparted training in drill, handling weapons, GSK, firefighting, civil defense, pilot aptitude, and battery test and provided training for SSB interview. As a social activity, cadets are taught to participate in camp management. They are provided with an opportunity to develop a sense of comradeship. As a part of NCC training, cadets are motivated to discover their own capabilities by overcoming mental and physical challenges and by developing leadership qualities.
At annual combined training camp cadets are selected for higher cadres. During 2010-11 cadet Gurmanpreet Singh, Kirti and Satwinder Singh got the first position in shooting Cadet Sgt. Sarabjeet Kaur and Ajay Singh got the second position in a shooting. Cadet Ashish got best cadet award in a unit. Hiten Kumar participated in Commonwealth Games at New Delhi. For the 4th consecutive year, our cadet won the overall best cadet trophy. Cadet Sgt. Prabhleen Kaur Bawa got best cadet award in the whole group and awarded a cash prize of Rs.3500/-. Our college contingent also won drill competition and was awarded a trophy.Cadet Jasmine successfully cleared the National CDS exam for Indian Army and National CET exam for Indian Air Force.
N.C.C. ARMY WING
N.C.C. Activities
11 cadets, selected from the college, were presented Gold Medals for organization of Commonwealth Games, New Delhi Oct. 2010. U/o Umesh Kumar Pandey was the only cadet from the region selected for mountaineering camp at Uttarkashi. S. U/o Dheeraj Singh Routela was also the only cadet selected from the region for Rock Climbing Camp, Gwalior. Two cadets from the college attended the National Integration Camps (N.I.C.) at Gujarat & Naya Nangal and won prizes for various activities Jan. 2011.
Other activities include:
11 Cadets attended Army Attachment Camp, Jalandhar Cantt.

06 Cadets attended the Pre-R.D. Camp at Kapurthala Oct. 2010 and Ludhiana

05 Cadets attended the various Pre-Thal Sena Camps.

50 Cadets each attended the two C.A.T.C. and won prizes for various activities.

25 Cadets participated in the state level republic day parade 2011 at Guru Gobind Singh Stadium, Jalandhar.

06 Cadets participated in the army flag day Dec. 2010.

An exhibition and Motivation Lecture by group Commander, Jalandhar and Commanding Officer 2 Pb. Bq. was held in the college in Aug. 2010.

Prestigious 'C' Certificate Exam of the Group (Doaba Region) and 'B' Certificate Exam of the Battalion was held in our college on 20thFeb. & 7thFeb. 2011 respectively where 35 cadets appeared for 'c' certificate & 41 for 'B' certificate.